I have had some push-back over the past year regarding clean tech investing, as many investors have painted all clean tech and new energy solutions with a broad 'Solyndra brush.'  Meanwhile, as environmental alarms sound across the globe, clean tech investing continues apace, despite the misconceived headlines.  Environmental conditions are impacting our economy currently, and we believe this will have step-change impacts across the globe given the trends we have been communicating, and managing to since we started researching GEOS in 2006.
The National Oceanic and Atmospheric Administration (NOAA) just released its State of the Climate 2011 report stating, "Every weather event that happens now takes place in the context of a changing global environment."  While a review of last year, highlighting the intensifying drought in Texas and northern Mexico, the ranchers of the American West and farmers in our Heartland know all too well the severe conditions with wildfires and drought will impact our economy in the coming months.  The NOAA report was consciously conservative with statements of attribution about the causes of extreme weather events, but stated that "preliminary data indicate it is highly likely that 2011 will be the 21st consecutive year of negative annual balances."
This state continues:
The US drought which has expanded to affect 56% of the contiguous US, has caused corn supplies to decrease at the fastest pace in 18 years, and the related surge in corn futures prices is having a direct impact on world food prices.  We have already heard comments from companies that are guiding to higher corn-related input costs.  The leverage to higher corn prices is high currently, as current world inventories are the lowest since 1974.  This is due to our comments on the rise of the "Next Three Billion", and their increased demand for protein.

We project the investment ramifications from this condition will be widespread, leading to general agricultural price pressures.  Opportunistically, this relates directly to the GEOS agricultural productivity and water themes, where we are invested in technologies such as crop protection, irrigation and next-generation biofuels.

The wild fires in the West, depicted in the NASA image below, depict the grave situation, as the fires across Colorado, Nevada and Utah send strong aerosols across the country.  These particulates are most-concentrated in deep brick red, and have outsized negative impacts on weather and climate, and are affecting air quality as far away as the East Coast.  As NOAA stated in their report, "from snow cover, to ocean heat body and specific humidity, many of these indicators provide unambiguous evidence that our planet is warming."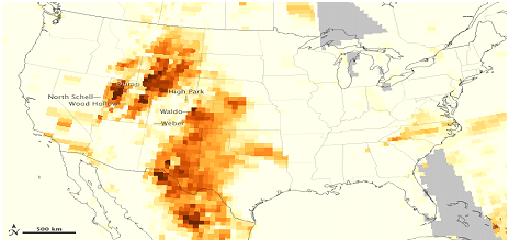 Source:  NASA Earth Observatory, 7/12
As the West burns, we have been reminded over the past few years at to the relationship between energy and the environment, from the Gulf of Mexico's Deepwater Horizon oil spill, to Japan's nuclear crisis at Fukushima Daiichi – we have witnessed the great complexities of global energy source extraction and generation.  While these environmental disasters have un-folded, world economic growth has trended to the hands of the emerging growth economies, led by China.  We concur with recent International Energy Agency (IEA) projections that China will take 40% of the world's oil demand growth, which is why they plowed over $18 billion into clean energy investments last quarter, a 92% increase over the first quarter of 2012 according to New Energy Finance.  We believe China will overtake Europe as the top renewable energy market, as they seek diversified means to power their economy (GDP = BTU).
So, while the headlines continue with EU risks, global clean energy investments increased over 24% this past quarter, with public investments of over $1 billion.  Companies are embracing clean tech investing to drive the bottom-line and lessen business operating risks.   We recently spoke with the CEO from one of the largest grocery retailers in the US regarding his decision to move a quarter of his delivery vehicles to natural gas, in order to limit exposure to diesel fuel.  For the company, it is a planned competitive advantage, to diversify fuel feedstock while meeting more stringent EPA legislation for diesel emissions.  Companies are also enhancing clean technology portfolios, which is exemplified by the increase in mergers and acquisitions, as large multi-nationals seek leading clean tech offerings.  Banks are also developing clean tech businesses, with Goldman Sachs, Wells Fargo and Bank of America all announcing recently expanded environmental business commitments, from renewable energy financing to biofuels projects.
So, as the headlines scream EU global financial melt-down, we are observing the environmental degradation that is happening before our eyes, and note the economic relation in terms of risk and opportunity.   We are focusing on what we can control, ensuring GEOS reflects holdings across our environmental themes, in technologies that increase efficient use of scarce resources.