Energy's Center of Gravity
After seeing the riveting movie Gravity this past weekend, I was taken by a certain quote in today's just-released World Energy Outlook 2013 from the International Energy Agency (IEA): "The centre of gravity of energy demand is switching decisively to the emerging economies, particularly China, India and the Middle East, which drive global energy use one-third higher."
We take note and utilize each IEA annual forecast, which we have articulated and presented significantly over the past several years in managing the Essex Global Environmental Opportunities Strategy (GEOS). The IEA now forecasts the share of global energy growth to be 65% non-OECD from 2012-2035, with global primary energy demand led by China of course. The most compelling points made in this recent report are with regard to renewables in China: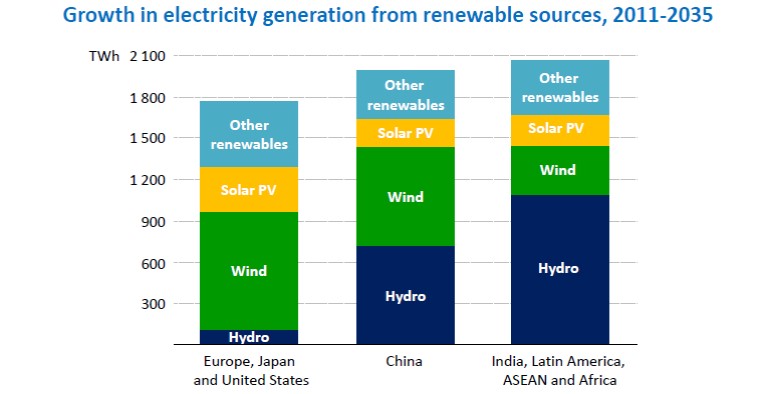 Source: IEA World Energy Outlook 2013, November, 2013.
Renewables are the greatest growth source of energy, with China's renewable appetite greater than gains in the EU, US and Japan combined. This is an important prediction, given the corollary trends in the OECD regions, with energy efficiency increasing, independence increasing in North America, and China continuing to fire on all BTU sources. This brings us to our definition  of clean tech: doing more with less – making fossil BTU sources cleaner, as renewables are distributed, and predicted to surpass coal use in aggregate by 2035.
Here is the link to the IEA report:
http://www.worldenergyoutlook.org/