Essex Global Environmental Opportunities Strategy (GEOS)
August 2022 Update
The global equity markets rallied in July 2022, seemingly celebrating abating inflation rates and the prospects for softer economic landings. In the U.S., our economy has undoubtedly slowed given the close of pandemic stimulus and tightening of financial market conditions. Industrial economic indicators have declined significantly since 2021 but are not yet sounding recession alarms according to some measures. Consumer sentiment is declining, although at this writing, demand for major discretionary items such as cars are strong. Most importantly, and to our Essex Global Environmental Opportunities Strategy (GEOS) investment philosophy and process, the trends and fundamentals grow stronger, from the need for increased agricultural productivity, to addressing our diminished water supply.
Heatwaves in the U.S., U.K., and China have continued to bring record breaking temperatures this summer. In the U.S., more than 100 million people have been affected by recent heatwaves that have prompted declarations of heat emergencies or extreme heat advisory warnings. In many cases, local temperatures exceeded 100 degrees Fahrenheit, even climbing past 110 degrees F in certain instances. In the U.K., the U.K. Met Office Weather Agency recorded a provisional temperature reading in eastern England of 40.3 degrees Celsius, or 104 degrees Fahrenheit, on July 19th.[1] This temperature, along with 29 other areas in the country, broke the previous U.K. record of 38.7 degrees C. According to experts, the likelihood of the U.K. experiencing days 40 degrees Celsius or higher are ten times higher today than during the pre-industrial era due to the impacts of climate change.[2] The World Meteorological Organization has also stated that the past decade (2010-2020) was the hottest on record globally. Increasing temperatures will continue in the future as greenhouse gas emissions exceed net-zero emissions, making it imperative to prepare for a hotter global climate and reach net-zero as soon as possible.
The Global Environmental Opportunities Strategy (GEOS) team has previously stressed the importance of investing in climate adaptation solutions, not just climate mitigation. GEOS invests in several climate adaptation solutions, including heat pumps and smart irrigation technology, which help society prepare for the impacts of climate change. Electric heat pumps can be used to provide heating in cold months and cooling in warmer months. Heat pumps are significantly more energy efficient than traditional heating and cooling technologies, such as air conditioners, furnaces, or boilers, and are experiencing significant growth, especially in Europe. Less than 5% of European households have access to air conditioning, a major problem since climate change is increasing the frequency and intensity of heatwaves. Heat pumps can help protect people from extreme heat while offering a more climate friendly alternative than dominant cooling technologies. Another climate adaptation solution GEOS invests in is smart irrigation technology. As farmers experience lower rainfall and more frequent droughts caused by climate change, they must utilize water resources more efficiently. By facilitating more precise irrigation application, smart irrigation technology can help farmers increase the quality of water application while reducing total water use.
Headlines across the globe reinforce the case for clean technology currently: arresting climate change while scaling economic growth with less resources – doing more with less. There is a strong negative feedback loop occurring as high temperatures and drought are limiting energy distribution globally, from Texas to Tokyo and Europe. Currently, electricity prices in France and Germany are the highest in history, the result of severe weather and the war in the Ukraine: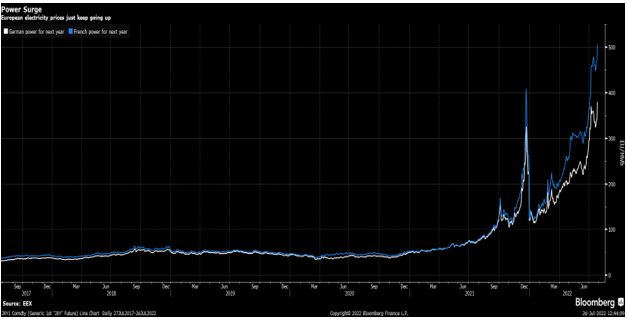 When fossil fuels are used for electricity production, the thermodynamic process requires copious amounts of water – this is also the case with nuclear power generation. Low water levels globally are restricting electricity production while demand increases in severe heat. Solar and wind power have huge advantages as they require no water for electricity production and can be sited in arid regions. As renewables are scaled, a nimbler electricity grid is required – a tall order as 70% of America's transmission lines and large power transformers are at least 25 years old and will require an over $2 trillion upgrade according to the Electric Power Research Institute. Grid upgrades will likely be placed into electric utility rate bases, increasing electricity rates even further. As we listen to second quarter earnings calls from solar and battery companies, rising utility rates are shifting consumer demand to renewable and clean energy solutions such as solar, battery storage, and home energy efficiency programs. GEOS has extensive exposure to this trend, from electricity grid solutions to distributed and renewable energy exposure. Corporations are certainly investing, as corporate demand for renewables has increased 27% year-to-year as of June 30, according to Bloomberg. States are investing too, as Texas continues to be the top state for renewables development – 18% of renewables projects are in Texas. As we close out earnings season, we are confident the strong near-term fundamentals for resilient clean tech being highlighted currently, are also long term in nature.
Disclosures:
This commentary is for informational purposes only. It does not constitute investment advice and is not intended as an endorsement of any specific investment. The opinions and analyses expressed in this commentary are based on Essex Investment Management LLC's ("Essex") research and professional experience and are expressed as of the date of its release. Certain information expressed represents an assessment at a specific point in time and is not intended to be a forecast or guarantee of future results, nor is intended to speak to any future periods. Accordingly, such statements are inherently speculative as they are based on assumptions that may involve known and unknown risks and uncertainties.
This does not constitute an offer to sell or the solicitation of an offer to purchase any security or investment product, nor does it constitute a recommendation to invest in any particular security. An investment in securities is speculative and involves a high degree of risk and could result in the loss of all or a substantial portion of the amount invested. There can be no assurance that the strategy described herein will meet its objectives generally or avoid losses. Essex makes no warranty or representation, expressed or implied; nor does Essex accept any liability, with respect to the information and data set forth herein, and Essex specifically disclaims any duty to update any of the information and data contained in the commentary. This information and data does not constitute legal, tax, account, investment or other professional advice. Essex being registered by the SEC does not imply a certain level of skill or training.
[1] Anica Kirka and Jill Lawless, UK Breaks Record for Highest Temperature as Europe Sizzles. The Associated Press. https://apnews.com/article/wildfires-france-fires-london-england-b9bc07c1685b76ddf377b65f19fb811b
[2] Press Office, UK Prepares for Historic Heat Spell. UK Met Office. https://www.metoffice.gov.uk/about-us/press-office/news/weather-and-climate/2022/red-extreme-heat-warning
Please find important disclosures here.