Third Quarter 2013 GEOS Review – Beyond Intrigue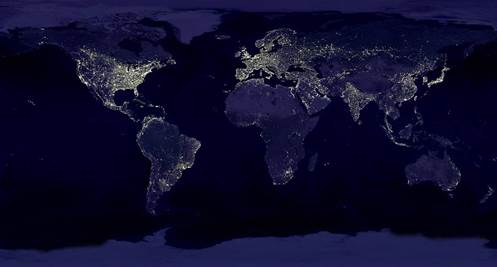 The roots of the Essex Global Environmental Opportunities Strategy (GEOS) go back prior to our joining Essex Investment Management. In 2005, while at State Street Global Advisors, we determined that there were multiple and sustainable catalysts allowing for long-term, dynamic growth of the clean technology sector. The NASA photo above, "The World At Night" demonstrates most of these catalysts effectively, depicting the high per-capita energy consumption in the established Organisation for Economic Co-operation and Development (OECD) economies. The action is in the dark regions. That is where we believe our world is experiencing a secular shift greater than that of the Industrial Revolution, as the economic baton is passed to the non-OECD regions. It is for this reason we believe clean technology and associated new-energy infrastructure and natural resource optimization will continue to have significant growth.
Economies, industries, companies and consumers need to do more with less given these global changes. This trend, doing more with less has led to the recently robust growth rates in clean tech sectors such as LED lighting and solar power. Companies want to manage their business risks, lessening exposures to commodities which are experiencing marginal pricing pressures given demand and supply imbalances. This is "Economics 101", and the primary reason we believe that Brent crude oil prices are up 140% since the Great Recession (12/31/08 – 09/30/13). In the face of an anemic economic recovery, oil prices have remained firm despite the Euro Crisis, polarized Washington, and subdued consumer spending. The primary catalyst driving commodities such as Brent Crude is increased domestic consumption in China, given the transition from an export-led economy.
We don't believe these secular trends and related pressures will abate. Over this past quarter, the transition to Clean Tech 2.0 gained great strength as evidenced by equity
market returns.  Although the transition is gaining strength, we are still in the nascent stages – the Wilderhill Clean Energy Index, which outperformed the more broad-based MSCI World Index for Q3, has only achieved this feat in 3 of the 17 quarters since the inception of GEOS in mid-2009. Indeed, many of the clean tech stocks are emerging from low bases, but this recovery exhibits the transition of clean tech from one exhibiting instances of poor capital deployment, to one based on fundamentals and economics. Increased growth is driving revenue, profitability and increased returns on capital for the clean tech sector. It is also the reason we have seen increased mergers and acquisitions activity especially as larger industrial companies acquire strategically-positioned industry leaders.
We have had frequent comments over the past several years from prospects and friends that they are "intrigued" by GEOS. Interest in the clean tech sector transitioning from Clean Tech 1.0 was fleeting, given the misperceptions of subsidy dependence, questions about economic viability, commercialization ramps, etc. We believe Clean Tech 2.0 is at hand, moving beyond intrigue. Economics and secular trends aside, there are also cultural catalysts at play. Many asset owners are waking up to the fact that given global climate change, we must embrace and fast-track clean technologies. The fossil fuel divestment campaign initiated by 350.org and targeting college endowments is having a profound impact in raising the conversation about the limits and conflicts to growing our world's economy with fossil fuels. We believe the rise of cultural sustainability, and related conversations and actions around climate change action may well catalyze action for more rapid clean technology development.
In managing GEOS, we invest across nine clean technology themes, in technologies that allow increased productivity per unit of input – in other words, doing more with less. The companies represented in GEOS are solving the world's greatest challenges, and the vast majority are commercially-viable technologies now. We invest in technologies that limit the use of fossil fuels, positioned for the globally-urgent economic and secular trends, as well as social concerns – these trends are well beyond intrigue.