Bill McKibben of 350.org has toured U.S. college campuses with a nation-wide "Do the Math" tour to convince students to take action, pressuring university endowments to divest from fossil fuels:  http://math.350.org/.  The "math" refers to acceptable allowances and limits of carbon and other greenhouse gases (GHGs) that can be released into the atmosphere, before global climate change is exacerbated.  We believe we have a solution — the Essex Global Environmental Opportunities Strategy (GEOS) moves beyond divestment, offering asset owners and their fiduciaries an all-cap, global equity strategy that enables reinvestment in technologies that provide a faster and smoother transition to a clean energy future.
We have written at length about the complexities of global energy demand, given the extreme secular trends occurring in China and, to a lesser extent, India.  The world needs a broad energy palate for the time being, and must incorporate many energy source modes lest we have enormous near-term economic disruption.  However, renewable energies are now viable, and are the fastest-growing energy sources, adding greater new energy capacity to the mix each year.  That said, incumbent base-load sources such as coal will still be important energy producers over the next decade, given the growth of the non-OECD regions, explained in our white paper The Energy Equation:  https://www.essexinvest.com/sites/default/files/The%20Energy%20Equation.pdf.  While China is recognizing the limits to their growth, they cannot put a strong governor on fossil fuel sources currently, lest they experience extreme economic and related social unrest.  The chart below from the International Energy Agency depicts China leading global energy demand for all sources, from coal to renewables.  While renewables will account for half of new global energy capacity, the 70% increase in worldwide electricity demand will require all existing energy sources.  However, we believe renewables will continue their dominant growth trajectories, followed by natural gas.  Coal-fired power, while a necessary component, will increasingly be considered a necessary evil, as world economies transition to cleaner base-load power sources such as wind, as well as distributed energy such as solar power.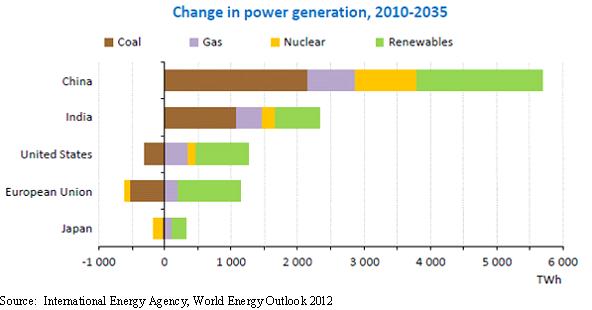 GEOS invests in technologies that enable the clean energy transformation, by making existing, incumbent energy sources and technologies cleaner and more efficient.  We define clean technology as technologies that increase the efficient use of scarce resources.  Clean technology includes products and services that enable resource optimization, allowing economies to do more with less.  While clean tech incorporates new energy infrastructure, it also enhances the efficiency of existing energy infrastructure.  Our GEOS themes define clean technology, and our investments in listed equities span from agricultural productivity, to efficient transport, to power technology and water.  All are clean technologies, and all are related to doing more with less, at a time when ALL marginal demand for many natural resources are driven by the emerging economies.  These secular trends are not going away, and we believe will be in-tact for many years to come, providing ample and sustainable investment opportunities for asset owners.  There are 600 companies across the listed, global equity markets exposed to some degree to our nine GEOS themes, and we hold 35-45 in the GEOS portfolio.
After engagement and any divestment, capital can be deployed to reinvestment activities, to be taken opportunistically, investing in listed equities representing technologies leveraged to resource optimization and de-carbonization.  Now is a particularly good time, as most companies with full exposure to these technologies provide strong and long-term growth potential at what are currently very reasonable valuations.  As asset owners "do the math" responding to pressures for fossil fuel divestment, we believe there is "extra credit" in reinvestment in listed-equities of companies offering viable and profitable clean technologies.