GEOS: Investing in Environmental Solutions
The Essex Global Environmental Opportunities Strategy (GEOS) invests in solutions to environmental challenges, looking to the biggest global environmental problems to find attractive investment opportunities. The Nelson A. Rockefeller quote, "Wherever we look upon this earth, the opportunities take shape within the problems," aptly describes our investment philosophy. Environmental problems such as water scarcity, water pollution, waste, climate change, and biodiversity loss threaten global economic growth. However, these problems also create investment opportunities in companies offering innovative and impactful solutions that enable sustainable growth and reduce impacts on the natural environment. GEOS seeks to identify the most attractive investment opportunities in clean technology and environmental solutions, investing in companies with differentiated technologies needed to address key environmental challenges and strong prospects for profitable, long-term growth.
Climate change is one example of an environmental problem creating a multitude of investment opportunities. Decarbonizing the global economy is difficult, with emissions by economic sector showcased in the figure below. Since each sector contributes to global emissions, scaled solutions are needed to decarbonize the economy over the next several decades. Within electricity and heat production, GEOS invests in companies providing microinverters, Electrical Balance of System (EBOS) solutions, smart grid infrastructure, wind blades, battery storage, wind turbine installation vessels (WTIVs), and heat pumps. These are just a subset of investment opportunities available to decarbonize electricity and heat production, the largest source of global emissions. Additional investment opportunities, which include precision agriculture, crop biologicals, green hydrogen, electric vehicle components, lithium, rare earth materials, factory and warehouse automation, and biofuels, are available in sectors generating the other 75% of global emissions.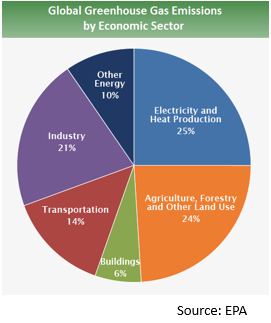 Water access is another example of a critical environmental problem creating investment opportunities. Water is an essential resource for all aspects of society, with added importance for human consumption, agriculture, and industrial processes. Yet, due to drought and overconsumption, the quantity of available freshwater is diminishing, despite a growing global population with increasing water requirements. Furthermore, the quality of existing water resources is deteriorating due to pollution from microplastics, PFAS, fertilizers, antibiotics, and other contaminants. We see intriguing investment opportunities in companies offering innovative water treatment and filtration technologies, energy recovery devices for desalination plants, precision irrigation technology, and other solutions that help improve the quality of existing water resources and expand access to additional water sources.
The GEOS team scrutinizes the most pressing environmental challenges globally to generate investment ideas, understanding that companies providing environmental solutions will benefit as sustainability continues to rise on the global agenda. Climate change, biodiversity loss, water access, and other environmental problems are inherently long-term issues with no silver bullet solutions. Therefore, companies deploying impactful, clean technology solutions can seize upon a multi-decade growth opportunity to boost revenue and earnings. In recent years, investors have started paying more attention to investment opportunities associated with environmental solutions, particularly decarbonization. However, the market still fails to grasp the long-term opportunity for environmental solutions, creating opportunities for fundamental investors. With a track record of investing in environmental solutions since GEOS' inception in 2009, we believe investors should consider adding GEOS to their portfolios to gain exposure to a generational growth opportunity.
Disclosures:
This commentary is for informational purposes only. It does not constitute investment advice and is not intended as an endorsement of any specific investment. The opinions and analyses expressed in this commentary are based on Essex Investment Management LLC's ("Essex") research and professional experience and are expressed as of the date of its release. Certain information expressed represents an assessment at a specific point in time and is not intended to be a forecast or guarantee of future results, nor is intended to speak to any future periods. Accordingly, such statements are inherently speculative as they are based on assumptions that may involve known and unknown risks and uncertainties.
This does not constitute an offer to sell or the solicitation of an offer to purchase any security or investment product, nor does it constitute a recommendation to invest in any particular security. An investment in securities is speculative and involves a high degree of risk and could result in the loss of all or a substantial portion of the amount invested. There can be no assurance that the strategy described herein will meet its objectives generally or avoid losses. Essex makes no warranty or representation, expressed or implied; nor does Essex accept any liability, with respect to the information and data set forth herein, and Essex specifically disclaims any duty to update any of the information and data contained in the commentary. This information and data does not constitute legal, tax, account, investment or other professional advice. Essex being registered by the SEC does not imply a certain level of skill or training.
Please find important disclosures here