Essex Global Environmental Opportunities Strategy (GEOS) June 2023 Update
The tug of war between inflation and recession continued its reflection on the equity markets in May 2023 albeit to a lesser extent. Market returns were led by mega-cap tech stocks, and, interestingly, the most leveraged companies in the small cap arena.
Climate change is one example of an environmental problem creating a multitude of investment opportunities. Decarbonizing the global economy is difficult, with emissions by economic sector showcased in the figure below. Since each sector contributes to global emissions, scaled solutions are needed to decarbonize the economy over the next several decades. Within electricity and heat production, GEOS invests in companies providing microinverters, electrical balance of system (EBOS) solutions, smart grid infrastructure, wind blades, battery storage, wind turbine installation vessels (WTIVs), and heat pumps. These are just a subset of investment opportunities available to decarbonize electricity and heat production, the largest source of global emissions. Additional investment opportunities, which include precision agriculture, crop biologicals, green hydrogen, electric vehicle components, lithium, rare earth materials, factory and warehouse automation, and biofuels, are available in sectors generating the other 75% of global emissions.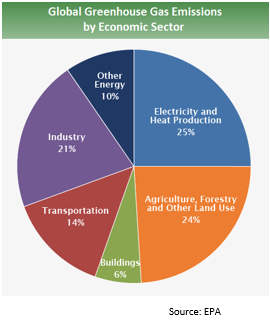 Water access is another example of a critical environmental problem creating investment opportunities. Water is an essential resource for all aspects of society, with added importance for human consumption, agriculture, and industrial processes. Yet, due to drought and overconsumption, the quantity of available freshwater is diminishing, despite a growing global population with increasing water requirements. Furthermore, the quality of existing water resources is deteriorating due to pollution from microplastics, PFAS, fertilizers, antibiotics, and other contaminants. We see intriguing investment opportunities in companies offering innovative water treatment and filtration technologies, energy recovery devices for desalination plants, and other solutions that help improve the quality of existing water resources and expand access to additional water sources.
The GEOS team scrutinizes the most pressing environmental challenges globally to generate investment ideas, understanding that companies providing environmental solutions will benefit as sustainability continues to rise on the global agenda. Climate change, biodiversity loss, water access, and other environmental problems are inherently long-term issues with no silver bullet solutions. Therefore, companies deploying impactful, clean technology solutions can seize upon a multi-decade growth opportunity to boost revenue and earnings. In recent years, investors have started paying more attention to investment opportunities associated with environmental solutions, particularly decarbonization. However, the market still fails to grasp the long-term opportunity for environmental solutions, creating opportunities for fundamental investors. With a track record of investing in environmental solutions since GEOS' inception in 2009, we believe investors should consider adding GEOS to their portfolios to gain exposure to a generational growth opportunity.
We have strong conviction in the GEOS power technology theme. The International Energy Agency released a report in May that a record $1.7 trillion will be invested in a variety of clean technologies this year, compared to $1 trillion in fossil fuel infrastructure. Clean energy spending is set to grow over 20% in 2023 versus 15% for fossil fuels. Distributed forms of energy are increasingly more economic as they limit commodity exposure, and isolate increasing electric utility bills, which increased last year 13% – the largest increase since the US Energy Information Administration began tracking the metric in 1984. The problem now is there is more renewable energy trying to connect to our US grid than all current electricity capacity. According to the Lawrence Berkeley National Laboratory there is over 2 terawatts of generation and storage capacity active in queues, more than the approximate 1,250 gigawatts of current generation capacity. As of the end of 2022, more than 10,200 projects were seeking grid interconnection across the US, from battery storage to solar and wind projects. The majority of the queues are in Texas, Arizona, California and the plains states. Unfortunately, the duration of queues has been increasing, with the request duration now over three years, given permitting issues and the complexity of larger renewables projects. A major current problem is shortages, from hardware for the grid to labor. The companies across the GEOS power technology theme are positioned to enhance our electrical grid, and lower complexities given the abundance of new technologies "plugging in", from battery storage to EV charging and solar arrays. GEOS holdings in the power technology theme allow electric utilities to see the new and digitized electron, meet labor shortages, and deliver electricity to customers amidst this new and disrupted grid. Gone are the days coal plants deliver electricity in one direction with 100-year-old technology. We believe the new, clean and flexible grid is the most dynamic and long-standing GEOS theme.
Disclosures:
This commentary is for informational purposes only. It does not constitute investment advice and is not intended as an endorsement of any specific investment. The opinions and analyses expressed in this commentary are based on Essex Investment Management LLC's ("Essex") research and professional experience and are expressed as of the date of its release. Certain information expressed represents an assessment at a specific point in time and is not intended to be a forecast or guarantee of future results, nor is intended to speak to any future periods. Accordingly, such statements are inherently speculative as they are based on assumptions that may involve known and unknown risks and uncertainties.
This does not constitute an offer to sell or the solicitation of an offer to purchase any security or investment product, nor does it constitute a recommendation to invest in any particular security. An investment in securities is speculative and involves a high degree of risk and could result in the loss of all or a substantial portion of the amount invested. There can be no assurance that the strategy described herein will meet its objectives generally or avoid losses. Essex makes no warranty or representation, expressed or implied; nor does Essex accept any liability, with respect to the information and data set forth herein, and Essex specifically disclaims any duty to update any of the information and data contained in the commentary. This information and data does not constitute legal, tax, account, investment or other professional advice. Essex being registered by the SEC does not imply a certain level of skill or training.
Please find important disclosures here